Having an outdoor living space is a great way to extend your home's living area and fully enjoy the beauty of nature. However, a lot of us tend to neglect this area, leaving it underutilized. It's time to change that! Here are 10 great ways to elevate your outdoor living space and make it a cozy and inviting haven.
1. Create a focal point: Add a statement piece that will capture attention. A stunning fire pit, a stylish outdoor sofa, or a beautiful water feature can instantly transform your outdoor space into a visual delight.
2. Comfortable seating: Invest in comfortable outdoor furniture that encourages relaxation and socialization. Opt for durable, weather-resistant materials like teak or wrought iron, and don't forget to add cushions and pillows for extra coziness.
3. Add colour: Incorporate vibrant colours in your outdoor living space by using colourful throw pillows, area rugs, or potted plants. It adds a touch of freshness and liveliness to the area.
4. Lounge area: If you have a larger outdoor space, consider creating a lounge area with a comfortable outdoor daybed, hammocks, or hanging chairs. It's a perfect spot to unwind and take a nap under the open sky.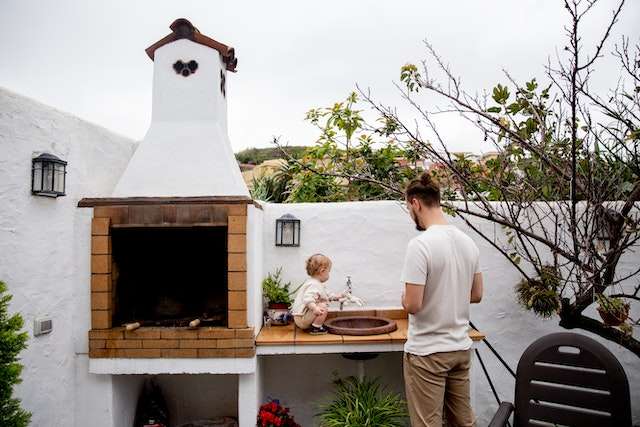 5. Outdoor kitchen and dining: Take your outdoor cooking and dining experience to the next level by installing an outdoor kitchen with a built-in grill, sink, and food prep area. Pair it with a dining table and chairs to enjoy meals al fresco with family and friends.
6. Privacy: Make your outdoor living space more private by installing privacy screens, pergolas with climbing plants, or trellises. This will create a secluded oasis where you can relax without the prying eyes of neighbours.
7. Lighting: Outdoor lighting not only enhances the atmosphere but also ensures safety and functionality in your outdoor space. Hang string lights, lanterns, or install path lights to create a warm and inviting space that can be enjoyed even during the evening hours.
8. Incorporate greenery: Bring life to your outdoor living space by adding plants and flowers. Use hanging baskets, vertical gardens, or large potted plants strategically placed to create a lush oasis feel.
9. Outdoor entertainment: Upgrade your outdoor living space into a mini entertainment hub by adding a sound system, outdoor projector, or a built-in bar. Hosting movie nights, cocktail parties, or simply enjoying music will be a breeze.
10. Enhance with accessories: Accessorize your outdoor space with weather-resistant decorative items like sculptures, artwork, or outdoor rugs to give it a personalized touch. It's all the little things that add up to create a cozy and inviting outdoor living space.
By incorporating these ten tips, you can elevate your outdoor living space from under-utilized to a functional, stylish, and cozy haven where you can relax, entertain, and appreciate the beauty of nature. So, get creative and transform your outdoor space into the perfect oasis that you've always dreamt of!
Remember to consider the specific needs and limitations of your outdoor space when implementing these ideas. Whether you have a small balcony or a spacious backyard, there are always ways to make the most of your outdoor living area. Embrace your creativity, think outside the box, and have fun with the process. Your outdoor living space has the potential to become a cherished part of your home and an extension of your personal style. Enjoy the endless possibilities and make it a space that you truly love to spend time in.