Old Town Niagara-on-the-Lake is a charming and picturesque historic neighbourhood. Many consider it the heart of Ontario, Canada's wine country. The neighbourhood boasts stunning historic homes and a host of trendy shops, making it a popular destination for tourists.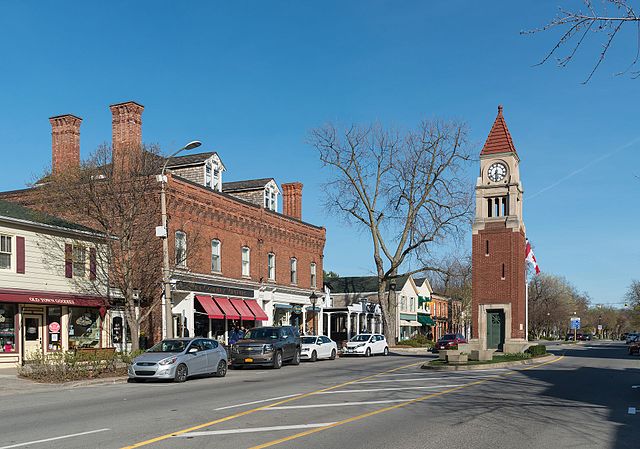 One of the standout attractions in Old Town is the Shaw Festival Theatre. This world-renowned theatre hosts a diverse range of productions all year round and attracts theatre lovers from all over the world. Many visitors to Old Town come specifically to catch a show at the Shaw Festival Theatre and experience its unique atmosphere.
In addition to the theatre, Old Town is also a hub for wine enthusiasts. The region is home to some of the best wineries in Canada. Visitors can embark on a wine tour and sample some of the region's finest wines while enjoying the stunning scenery.
Aside from wine and theatre, Old Town offers a range of other attractions and activities. Visitors can explore the neighbourhood's historic sites, dine at one of the many restaurants or cafes, or take a leisurely stroll along the picturesque streets.
Overall, Old Town in Niagara-on-the-Lake is a must-visit destination for anyone looking to experience a unique blend of history, culture, and natural beauty. With so much to offer, it is easy to see why it is such a popular attraction among both locals and tourists alike.
Whether you are a history buff, a lover of the arts, or simply looking for a charming getaway, Old Town in Niagara-on-the-Lake has something to offer everyone. With its beautiful historic homes, trendy shops, and captivating atmosphere, it is a neighbourhood that captures the essence of Niagara-on-the-Lake.
For theatre enthusiasts, the Shaw Festival Theatre is a highlight of Old Town. With a reputation for putting on exceptional productions, visitors can immerse themselves in a world of storytelling and creativity. The theatre's repertoire includes a mix of classic plays, contemporary works, and musicals, ensuring there is something for every taste.
Wine enthusiasts will also find themselves in paradise in Old Town. The region's vineyards are known for producing world-class wines, and visitors can indulge in delicious tastings and tours. Whether you prefer reds, whites, or something in between, there is a wine for every palate. The vineyards' scenic settings and stunning landscapes add to the overall experience, creating a perfect backdrop for wine aficionados.
Aside from the theatre and wineries, Old Town offers a wealth of other attractions. History buffs can explore sites such as Fort George, a national historic site that played a pivotal role in the War of 1812. Art lovers can visit the many galleries and studios showcasing the works of local and international artists. Foodies can delight in the culinary delights available in the neighbourhood's restaurants and cafes, which offer a diverse range of cuisines.
To fully immerse yourself in the charm of Old Town, take a leisurely stroll along the streets and soak in the picturesque surroundings. The well-preserved historic buildings, colourful gardens, and quaint shops create a romantic and welcoming atmosphere that captures the essence of the neighbourhood.
Overall, Old Town in Niagara-on-the-Lake is a destination that offers a unique blend of history, culture, and natural beauty. Whether you are seeking a weekend getaway or a longer stay, it is a place that will leave a lasting impression and draw you back time and time again.