The Annex, located in the heart of Toronto, is known for its rich history and outstanding architectural beauty. As you stroll through its leafy streets adorned with majestic Victorian houses, you can't help but be transported back in time. The meticulously preserved heritage homes stand as a testament to the neighbourhood's grandeur and evoke an atmosphere of elegance and sophistication.
Beyond its visually captivating charm, the Annex also boasts a vibrant cultural scene. It is a hub for artists, intellectuals, and free-spirited individuals who contribute to its bohemian ambiance. Countless independent art galleries, theatres, and music venues dot the area, ensuring there is always something exciting happening.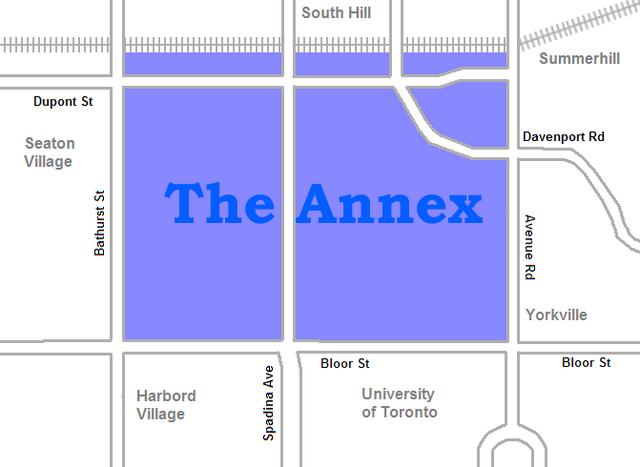 As the sun sets, the Annex truly comes alive. The bustling streets are lined with a plethora of cozy cafes, trendy restaurants, and lively bars. Whether you're craving a gourmet meal, international cuisine, or simply a comforting cup of coffee, the neighbourhood offers an array of options to satisfy every palate.
Along with its lively nightlife, the Annex is also renowned for its proximity to several renowned educational institutions. The University of Toronto, one of Canada's most prestigious universities, is just a stone's throw away. This brings a youthful energy to the area, with students enriching the community and contributing to the dynamic atmosphere.
Nature lovers can rejoice as well, as the neighbourhood is blessed with an abundance of green spaces. From the picturesque Philosopher's Walk, a serene pathway through the university's campus, to the sprawling grounds of Queen's Park, there are plenty of opportunities to escape the city buzz and immerse oneself in nature.
In addition to its countless cultural and recreational offerings, the Annex enjoys excellent transportation links. Well-connected by public transit, residents have easy access to other parts of the city. The neighbourhood is also within walking distance of Toronto's downtown core, allowing for convenient access to all the city has to offer.
With its rich history, outstanding architectural beauty, and vibrant cultural scene, the Annex is a neighbourhood that truly has it all. Whether you're exploring the leafy streets adorned with majestic Victorian houses or immersing yourself in the bohemian ambiance of the area's art galleries, theatres, and music venues, there's always something exciting happening.
The Annex also offers a wide range of dining options, from cozy cafes to trendy restaurants and lively bars. And with its proximity to the University of Toronto, the neighbourhood is full of youthful energy and a dynamic atmosphere contributed by students.
For nature lovers, the Annex is a paradise. With green spaces like the Philosopher's Walk and Queen's Park, there are plenty of opportunities to escape the city buzz and immerse yourself in nature.
Transportation is also a breeze in the Annex, with excellent public transit connections and walking distance to downtown Toronto.
Overall, the Annex seamlessly combines historical charm with vibrant energy, making it a coveted neighbourhood for art enthusiasts, food lovers, and history buffs alike.
Images by: